Sudhir Kumar Sinha, Patna
Music Composer, Arranger and Sound Recordist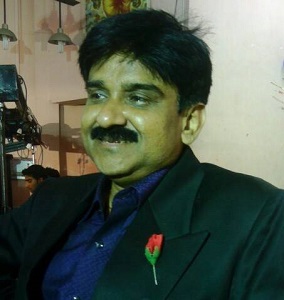 Born in 1966, Sudhir Kumar Sinha is an eminent and versatile musician of Bihar. He is a graduate in music from Trinity College, London and had earlier musical trainings from his father late Kamal Sinha, Asstt to bollywood music director duo Shankar-Jaikishan. He also received musical trainings from bollywood music directors Anand Raj Anand and Rajesh Roshan, senior guitarist and keyboard player Totan Mitra (Kolkata) and senior bollywood music arranger Anjan Biswas (Mumbai).

Apart from being a good singer, Sudhir Sinha is a veteran solo pianist and keyboard player, music composer, arranger and sound recordist. He owns a high profile multi-track digital audio recording studio "Anudhwani" in Patna. He has composed/arranged/recorded a large number of audio albums/cassettes for companies like T-Series, TIPS, VENUS, HMV etc - jingles, theme based musical events and Indo-western fusion music for several organizations like UNICEF, BIhar Tourism, Govt of Bihar, Indian Railways, All India Radio, Doordarshan, ETv, Radio Sanskriti Nepal etc just to mention a few among hundreds.

The musical world of Sudhir Sinha is so vast that it is practically impossible to pen down all his musical creations here. However, some of his works are worth mentioning - Bihar State Song and Prayer, Ye Hai Mera Bihar (ETv channel song), Bihar Gaurav Geet (Art & Culture Dept, Govt of Bihar), Ye Bihar Hai Jiski Maati (Doordarshan Patna channel song), Suno Patliputra Kya Bole (ETv Bihar), background music in various teleserials like Janta Express (ETv Bihar), Dastane Jurm (ETv Bihar), Soch (Doordarshan National), Udhaar Ka Suraj (Doordarshan Varanasi), Ek Din Subah Hogi (Doordarshan Patna), music director in cultural delegation to Mauritius accompanying Bihar CM Nitish Kumar, live band leader in several TV shows such as Dhun, Folk Jalwa, Fankaar, Maati etc, music director in several documentry films, Bhojpuri films and so on.

Sudhir Sinha, as music composer, is credited with several awards and honours including Bihari Asmita Sammaan 2007. He has been honoured by several organizations such as ETv Bihar in Sang TV Show (2004), Yuva FOGSI Congress (2005), Dept of Tourism Govt of Bihar (2005), HT Media (2006), Vishwa Bhojpuri Parishad (2007), World Catholic Association (2010), Aryabhatta Knowledge University (2014) etc.

Sudhir Sinha is also Music-In-Charge (Bihar and Jharkhand) for Trinity College of London's music courses and prepares students for the music examinations of Trinity College. He is lovingly called "Anu" and can be contacted at: sudhirsinha881@gmail.com .