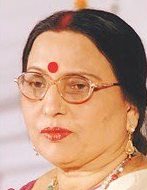 Padmashree Sharda Sinha, Samastipur

Sharda Sinha, popularly known as Bihar Kokila, is a renowned folk singer of Bihar. A professor of music, Sharda Sinha has been credited with several awards and honours including Padma Shree and Sangeet Natak Academy Award for her contribution to folk music.

She is not only a popular folk singer of Bihar, but has also charmed millions across the globe including countries like Russia, China, Uk, USA, Mauritius, Surinam, Germany, Belgium, Holland , Luxembourg, Egypt etc. She has also rendered several melodious songs in Bollywood films.