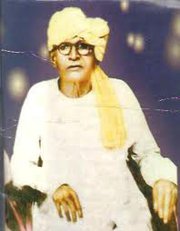 Bhikhari Thakur, Chhapra

Bhikari Thakur, popularly known as Shakespeare of Bihar, was born on December 18, 1887 at the village Kutubpur in Saran district. He was born to mother Shivakali Devi and father Dalsingar Thakur. Though a barber by caste, he was essentially a folk poet, a folk singer, a folk dancer and actor who dealt with issues of confrontation: between the traditional and the modern, between urban and rural, between the haves and the have-nots. His major works include - Bidesia, Bhai- Birodh, Beti Bechba, Kalyuga Prema, Ganga-asnan, Bidhwa- vilap, Putrabadh etc. He breathed his last on July 10, 1971.

He was also honoured with the title "RAI BAHADUR" by contemporary rulers of British regime.